Welcome to my favorite room in my entire house, my showroom. Over the past few months, this room has finally evolved into what I was dreaming of. I know that in time I'll be updating my pictures and products available, but it will always be cozy and my favorite place to hang out. You'll see lots of client images, but I also have "me" scattered all over. Although I also have an office, I prefer to work in here. This is where the magic happens and I love to surround myself with the things I love.
Here is a cell phone picture of me in my room on the day we moved in. This room looked like this until the spring of 2017.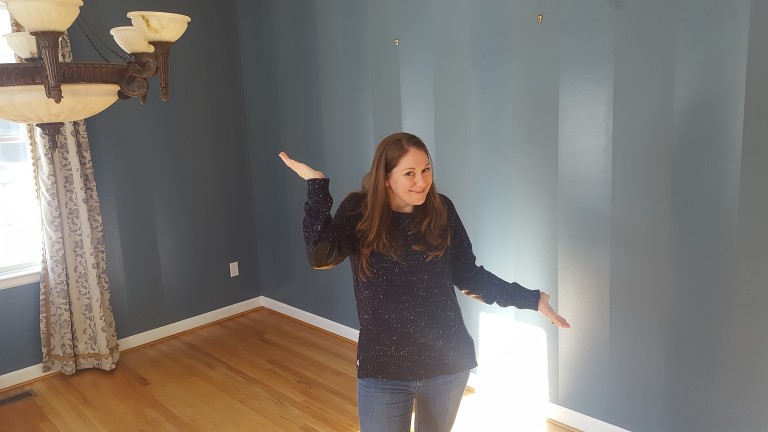 And, here is my showroom last week!

This is the last wall I finished.  I just bought that shelf around Christmas-time and I was so excited to print pictures from Travis and Rachel's lighthouse Mary Poppins theme wedding to put up there.  Also, on the table next to the couch, I have a picture of my Memere and Pepere on the day they got married.  That is there for a few reasons.  First of all, I know they would be so proud of what I have created.  I love them so much and I wish I could bring them here.  Secondly, their picture is there because it's a print.  In today's digital world, too many people keep their images forever in cyber-land and never print them.  What will your grandchildren and great-grandchildren display one day?  Please print your pictures!  Another piece I love on this little table is a canvas print from Alicia and Matt's Foxwoods and Lake of Isles wedding.  Did you know that you don't have to hang your canvas on a wall?  I have this image on a stand and I think it's perfect for this space!

Here is another wall.  I have some of my favorite products on this shelf.  You'll see matted images on a stand, a wooded print and a cube!  My parents had one of those vintage photos cubes in the kitchen in the early 80s!  You know what I'm talking about, right!?  Well, this is a gorgeous modern spin on the design.  Jake and Ali's lifestyle engagement session is featured on mine.  I have an image from Joy and Tim's wedding printed directly on the wooden print.  Such a perfect way to display images from a rustic wedding!  But check out what else!  I have the champagne flutes from my wedding to Mr. MbM and also our unity candle.  I love that I am able to display special pieces from my own wedding.

And, going around the room, here we have a metal from Annie and Mike's beach wedding, one of my very favorite products.  You can get one of these in two ways, hanging like I have here or on a stand, like in the next image.  You'll also see a sun catcher here.  This was purchased on a special trip to VT.  During this trip, we stopped at the Snowflake Bentley Museum.  I just love this book and the true story of Wilson Bentley.  Did you know he photographed some of the most gorgeous snow images you've surely seen?

And the final wall!  Here's another shelf that I love because it has a mixture of my work and also my personal life.  Some of my favorite products here are the stand-up metal image from Mel and Scott's softball and wine wedding and the mini accordion album of my own children.  Oh my goodness, and that acrylic block from Erin and Nick's beach and palm tree wedding!  You'll love that!!  I also have a wine bottle gift from Margaret and Richie's rustic barn wedding.  And the personal stuff- Cadbury Eggs.  I wait all year for these to come out!  If you come, and it isn't around Easter, I'll still have candy in there!  That's my promise to you!  Because I love candy so much, I've been known to make emergency runs to CVS to fill it up before people come over!  Also, the crystal dish was a special gift when I got married.   The cake topper on display was from my wedding.  We had a huge cake and the topper was actually in the middle!  I loved our cake!  
So, here's what you'll see if you come for a consultation or DSLR coaching.  If you're driving by, you may see me through the window with a laptop on my lap, my feet on the table and listening to 90s music on Alexa!
Thanks for checking out the blog post!
For my once-weekly email update with DSLR tips and love stories, click HERE!