Kayleigh and Shane had the best sunset Forest Park engagement session!  This engagement session has been in the plans since last fall and I am so glad we could finally do this together.
Shane and Kayleigh met at a tree lighting ceremony at their college, Rensselaer Polytechnic Institute, in line getting hot chocolate.  Then they had their first three dates in the next 24 hours!  I'm pretty sure that's exactly what they call, "love at first sight."  Awwwww After meeting and hanging out that evening, they met for lunch the following day and then went to their first (of like a zillion!) hockey games that evening.
It was so nice to finally meet Kayleigh.  As I said, we've been emailing for almost a year.  I met Shane years ago, because his mother and I are friends.  Shane and Kayleigh currently live in New Jersey and it was really great to meet Kayleigh and see them together.  She is absolutely the sweetest and their love is so perfect.  Kayleigh knew Shane was the one for her because even though he's allergic to cats, he still would go to her place all the time even though Kayleigh has a cat and Shane is allergic.  Also, Shane is not a fan of musicals (WHAT!?  It's okay- I still like you, Shane!) and he still brought Kayleigh to a Broadway play.
For our Forest Park engagement session, Kayleigh and Shane were so sweet, sitting in the garden, stealing kisses and laughing together.  Just so much love!  They brought a couple of outfits and we had to hang out by the bridge in both of them.  That bridge is so pretty, isn't it?!
I can't wait for their York Beach wedding next summer!  Kayleigh and Shane, thank you for trusting me with your engagement pictures.  I am so excited to work with you and I can't wait to follow your love story.
Location: Forest Park in Springfield, MA
Photography:  Melanie and Brian at mbm weddings- site, facebook and instagram
Hair and Makeup: Christina at Divine Elegance- site, facebook and instagram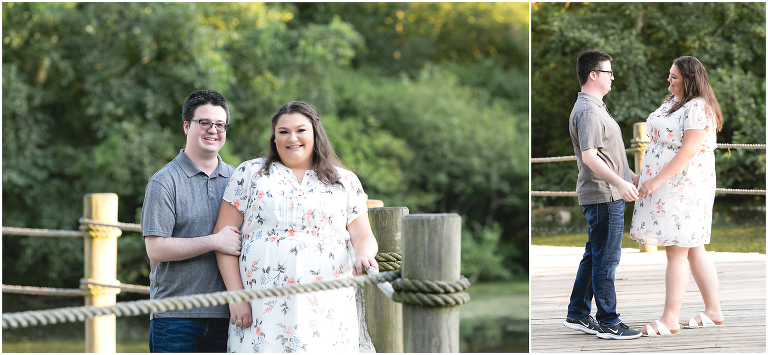 To be notified the next time Kayleigh and Shane are featured, make sure to SIGN UP HERE.
Like this post?  Do you want to see more like this Forest Park engagement post? Follow me on Facebook and Instagram!
Help celebrate with the future Mr. and Mrs!  Leave them a comment below.