Okay, so this is a tumbler that you need.  I'm just putting that out there.  Truth-be-told, I'm supposed to be telling you why this would be a terrific bridesmaid gift- and don't get me wrong- it would be!  But it is also a super idea just to get one for yourself.
A few days ago, Mr. mbm and I were sitting outside enjoying the last few days of summer.  He was using our teenage son's water bottle- you know the one.  The one alllll the kids needed to have a couple of years back.  I was using this Cool as Ice Tumbler for the first time.  My water stayed just as cool as his did, and when we came inside, after sitting in the sun, my bottle still had ice in it.  Next time, I'm going to use way less ice, and fill it with more water, because it is just that good!  I know the water will stay cool and refreshing!
If you're looking for gifts for your bridesmaids, this is the perfect idea!  You can get multiple colors for the bottle and for your girls' names!  I got a teal bottle with glitter silver text.  If you love the idea of tumblers, and this one just isn't for you, check out all of the personalized tumblers on the Bridesmaid Gifts Boutique site.
Once again, here is the link to this Cool as Ice Tumbler.  Enjoy!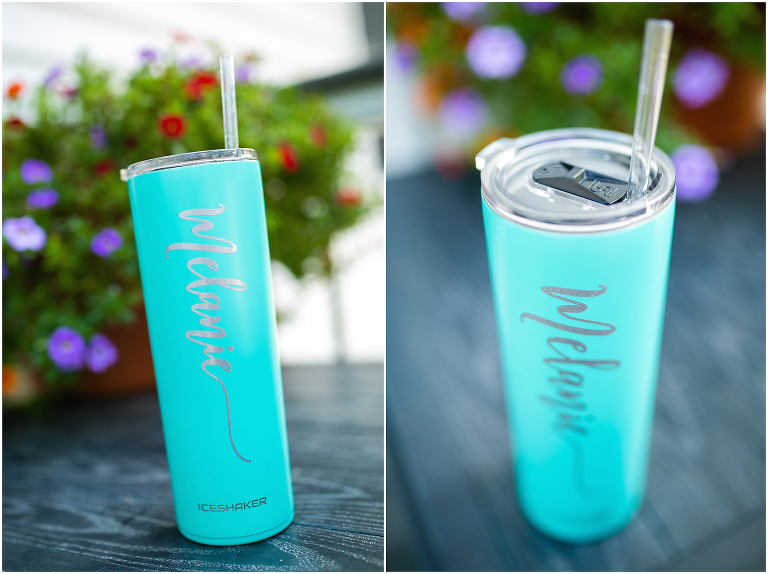 To be notified the next time I feature some of my favorite bridesmaids gifts, make sure to SIGN UP HERE.
Like this post?  Do you want to see more of my favorite bridesmaids gifts post? Follow me on Facebook and Instagram!