Christina and Jason had their wedding at the gorgeous Anthony's Ocean View in New Haven, CT.  I love Anthony's wedding ceremonies and receptions because it's like we're celebrating a wedding at a beautiful tropical destination!
Christina and Jason's summer beach wedding was the complete opposite of our "fall" (with some surprise snow!) engagement session!  You can see that HERE.
Getting back to their beautiful wedding.  We started their day getting pictures of the bride and groom and their family and best friends getting ready at a nearby hotel.  How fun are these robes, right?!  I love the close relationship these ladies have.

And this gown?  Oh, the pearl and sparkle details were gorgeous.  And the way they sparkled on the beach?  Just wait until you see those!  Absolutely breathtaking!
Jason, his father and his groomsmen all got ready in a room on another floor.  Jason and his father have such a beautiful relationship.  I love that he was the best man and the officiant.  You'll see in the ceremony pictures.  So sweet.
And then it was time to go get married!  The ceremony site at Anthony's Ocean View is stunning!  The boats and the sunset.  Swoon.

How awesome are these shots?  Brian caught some anxious and excited bridal party members who just couldn't wait for the ceremony to start!!
And then, here comes the bride!
It is always so meaningful when a family member marries a couple.  It was so special was it that Jason's father was not only the best man, but also the officiant.
Christina and I spent a lot of time watching the weather and checking sunset times.  I'm 100% sure our timing worked out perfectly.  The sun was just starting to set as Christina and Jason said their vows by the ocean.
Christina and Jason decided to do a sand ceremony so they could always keep a special memory on display in their home.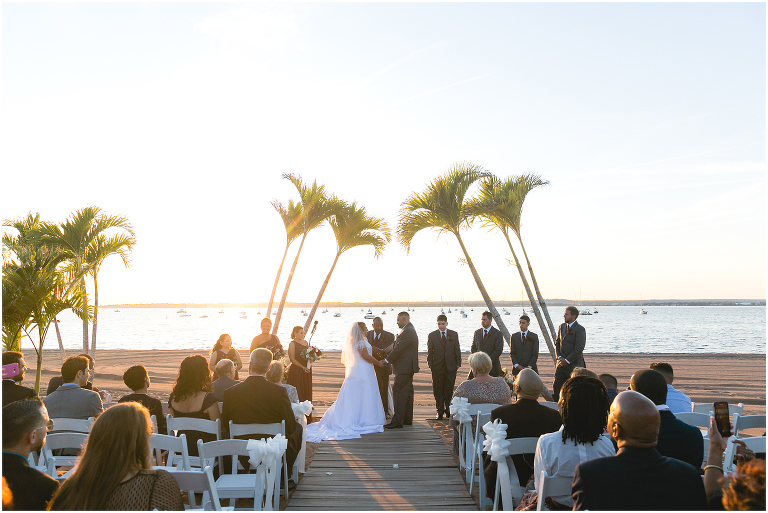 The most romantic first kiss in front of their most important people and the most amazing sunset…

We did portraits next, but you'll see those images posted at the end!  🙂  Just a little tease for you all!!
I am so in love with this ring set.  And on the gorgeous red flowers, the diamonds just pop!  Gorgeous.

I loved these epic entrances!  The little ones entered to Baby Shark!  If you have young children at home, there is no way you have lived through the past year without hearing this song…  and more than once, for sure!
Soooo romantic.  I always love first dances, and the way these two looked at and held each other was incredible.  So much love.
Jason and his daughter danced to a special song dedicated to Jason's mother.  There wasn't a dry eye in the whole room, including the photographers' eyes.
When Christina and her father danced, the tears continued.  Looking at her father, you can just see him reliving all of his memories of his daughter over the past years.
As I mentioned earlier, I love Anthony's Ocean View weddings for so many reasons.  Christina and Jason did an amazing job decorating and adding their own touch to their wedding reception details.

These toasts were hilarious!  Christina's best friend and maid of honor spoke about their special relationship and some of their funny memories.  Jason's father's toast was sentimental and also had us all laughing.  
The color scheme continued onto the cake.  Everything just flowed perfectly.  And I also love how the details on the cake compliment Christina's gown.  How gorgeous is this topper, too?
Personalized cake cutting serving sets are my favorite!
And then it was time to put their dancing shoes on!  I loved this basket!!

As I mentioned earlier, Christina and Jason got the most amazing sunset.  The sun started to set during the ceremony and then it turned the sky some of the most amazing colors as it continued setting.
We started with some family portraits.  Christina and Jason's parents were so happy that day.  You could see the love in their eyes throughout the evening and they were so happy for their children.
The sky was on fire for these bridal party pictures!
This couple.  Absolutely stunning.
Christina and Jason, thank you for trusting us with your wedding photography.  You had a perfect evening and it was an honor to be a part of your story.
Friends and family, make sure you sign up to be notified for the next time Jason and Christina are featured.
Photography: Melanie and Brian, mbm weddings
Venue: Anthony's Ocean View
Bridal Gown: David's Bridal
Bridesmaid's Dresses: David's Bridal
Flower Girl Dresses: David's Bridal
Men's Attire: Men's Wearhouse
Flowers: K and P Flowers
DJ: DJ Richy Steele
Make-up: Divine Elegance Beauty Boutique
Hair: Hair by Design
Mr. and Mrs. Saunders will be featured again in the future!  To be notified the next time they are featured, make sure to SIGN UP HERE.
Like this post? Follow me on Facebook and Instagram!
Help celebrate with the new husband and wife!  Leave them a comment below.