Kate and Brian had the most amazing Meriden wedding!  We traveled all over Meriden, Connecticut on their wedding day to celebrate their love for each other.  Brian and Kate's wedding photography included gorgeous and super fun venues, beautiful and kind people, breathtaking architecture, stunning skies, amazing details and so much love, laughter and friendship.
Have you ever wondered what a wedding album would look like if the bride and groom and the photographers were pretty much the same people?  If so, here, you will find out!  Between the four of us, three of us work with children, two of us work in politics (and a third one teaches it!) and all of us love books, details and beautiful architecture.  Two of us are Brians and two of us are now married to a Brian!  This wedding was destined from the start to be an epic photography experience for us all!
We started their day by getting pictures of them getting ready in their family's homes.  Kate and her ladies got ready at the home that she and Brian share.  One of my favorite parts of this afternoon was when Kate walked down the stairs and she and her father saw one another for the first time as a bride.
Look at the details in the gown.  Breathtaking, right?

Kate had two beautiful hangers to use for her gown and jewelry. Check out those really sweet charms on her shoes.  I love the library where Kate, her mother and her maid of honor, her sister, got ready.

After Kate was dressed, she walked down her staircase and her father got to see his baby as a bride and ready to get married.  I always love the emotion that comes with a father daughter first look.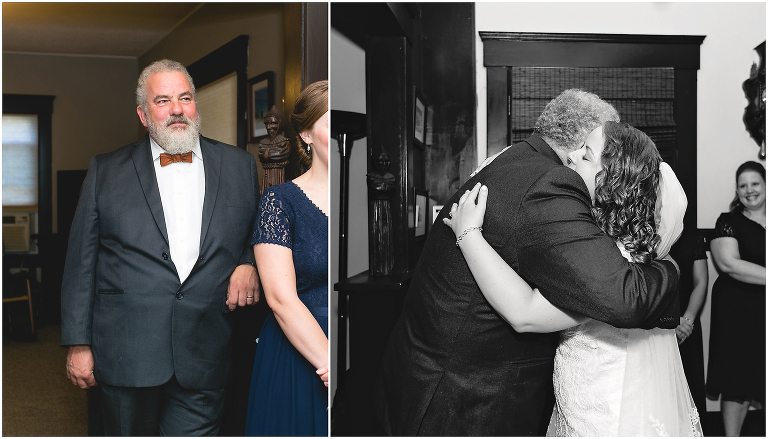 One of the things I love about getting ready in your home is the special details that I find!  These two signs were out in Kate and Brian's home.  
While I was with Kate, Mr. mbm was hanging out with Brian, his guys and his family.  Brian had a super cool hanger, too!
There is something about personalized cuff links that will always have my heart.  And when they are personalized and given to a groom by his future wife… swoon.
Brian's mother and father helped Brian with ties and flowers.
And then we all met up at the church.  This breathtakingly beautiful church.  St. Stanislaus Catholic Church is absolutely amazing.  The gold and the architecture are truly one of a kind.
Gorgeous, gorgeous programs.
And then…. the walk down the aisle.  The moment the groom sees his bride.
This was a really beautiful ceremony.  Not only is the church amazing, the priest led such a nice wedding ceremony for Brian and Kate.
And I got a glance at Brian's shoes! Yes!!  They matched Kate's!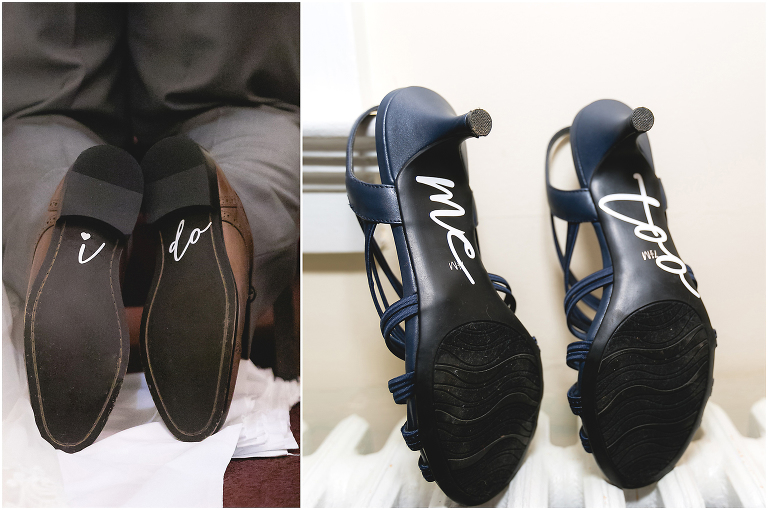 When a church has a balcony, it immediately becomes one of my favorites.
Awwww, the vows. 
And they are pronounced Mr. and Mrs. Cofrancesco!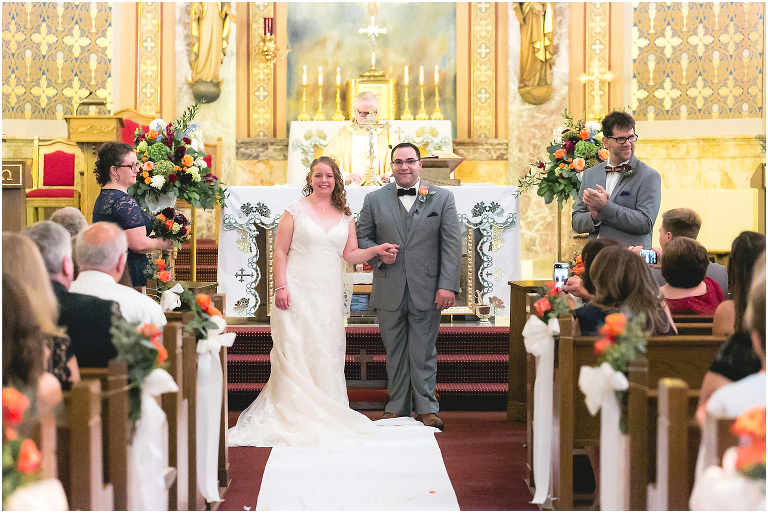 We did portraits next, but if you're a regular reader, you know those come at the end of the blog post!
After portraits, we headed over to the Curtis Cultural Center.  This building is soooo cool!  It is a converted historic library, and likely one of the coolest places I've been to.  The inside was so full of charm and so unique.  The outside was gorgeous and when the sun set over the city, Kate and Brian got the coolest purple sunset pictures!
Kate and Brian entered, were introduced and went right into their first dance.  It was so romantic and then the dip… the dip!  I love a good surprise dip!
This book theme is just perfect.  The theme was everywhere, starting with their hashtag, #ourfutureisBooKed!  The place cards were library cards and guests had to find their library card, by looking in the card catalog drawer. 
They had something special for the children.  Kate and Brian had a lot of children at their wedding.  I love that they gave each child a little activity kit to work on in between events.  So thoughtful!

As much as Brian and Kate loves books, they also love their hometown, Meriden.  Their guest gifts were little Meriden chocolate coins in the coolest boxes ever!  Look closely at the flowers; book pages!  And the centerpieces were books, as well.  They didn't miss a chance to weave their theme in throughout their entire wedding.
The parent dances followed the first dance.  You can see Kate's father and Brian's mother remembering their babies, as babies.  I usually shed a tear (or two or ten!) during parent dances and these were no different.  You could absolutely see the love Brian and Kate's parents have for their children.
You saw the guests tables before.  Check out the sweetheart table.  This book theme has my heart.  How awesome is this book cut out?
Brian and Kate had these amazing pens made for their guests to sign their guest book, a dictionary!
I am sitting here in my office, laughing as I type this, remembering these toasts.  Oh.My.Gosh.  They were THE BEST!  Sweet memories, emotional tears, hilarious memories, laughter, lots of hysterically funny tears…  For real, the best!
Also, Alanna used this opportunity to come clean to her brother about some fantastic childhood pranks!!!
Have you even seen a cake topper like this?  Soooo cool!  And not only are these toppers amazing, the cakes were delicious!  Kate's sister, Kellie, made them!
Kellie also made this popcorn dessert table.  Soooo good!  Such talent!!!
After dinner, Kate, Brian and their guests headed upstairs to the super cool dance floor!  These lights, in this room, on this ceiling were so fun!
Swoon.  Again.  Kate and Brain had their rings engraved.  And once again, they didn't miss a chance to extend their matching details.  This set is absolutely gorgeous.
And their ring box, these details!  Love!
How gorgeous are these flowers, too?  And of course, the pages woven in.

If you're a regular reader of the blog, you know I end with the portraits.
When you get married in a church that looks like this, we must do portraits on the alter.  We did family portraits, bridal party and of course, bride and groom portraits at church before heading to a local park.
The outside of the church is just as beautiful as the inside.  Remember what I said about architecture and details?  Stunning.  Everywhere.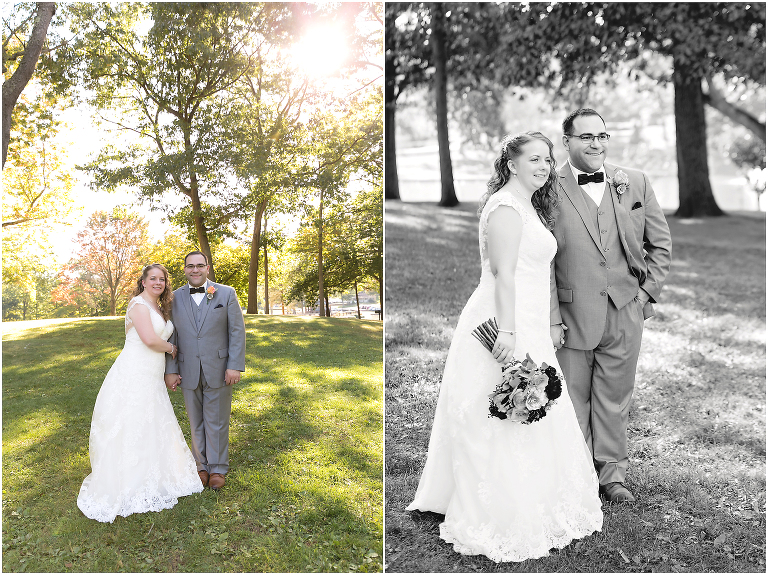 How about this idea for a thank you note?  Awesome, right?!
There is a really great ice cream shop real close to Brian and Kate's home where they love to go to.  So, of course, we needed to do a quick stop here!  How adorable is this couple, right?!
We also stopped at Brian and Kate's home for some portraits and to practice their first dance!  Check out the tree where Brian and Kate carved in their names when they bought their house.  So romantic.
Brian and Kate had amazingly warm weather for their wedding that ended with a perfect sunset sky.
Kate and Brian, you two had an amazing wedding.  Your attention to detail and the love surrounding you all made your wedding the perfect one to end our wedding season.  Thank you for trusting us to photograph your wedding.  We wish you a lifetime of love, laughter and happiness.
Please help Kate and Brian win free wall art!  Give them a congratulatory comment on this post!
To be notified the next time Mr. and Mrs. Cofrancesco are featured, make sure to SIGN UP HERE.
Like this post? Follow me on Facebook and Instagram!
Photography: Melanie and Brian, mbm weddings
Ceremony Venue: St. Stanislaus Catholic Church
Reception Venue: Curtis Cultural Center
Bridal Gown: Lastrina Girls Bridal Salon
Flowers: Wallingford Flower Shoppe
DJ: Entertainment Unlimited
Cake: Amazingly talented sister of the bride and maid of honor, Kellie