Audrey and Nick are engaged and since we had the best engagement session in the entire world, I did something I have never done before – I split their engagement session blog post into Part One and Part Two.  Welcome to Part Two – Horses and ATVs, Private Farm Edition!
After spending some time at Stanley Park, Nick, Audrey, Brian and I headed over to their farm.  I was waiting all day for this part of our session!
When Audrey and I first met, she told me all about Yahtzee, her baby.  And this horse has character!  He is so funny and has such a personality!!!  We had a great time getting some images of Yahtzee by himself (because that's what you always do at a photo session with your family!) and some with Yahtzee, his siblings (a pony, a couple of dogs and few cats!) and some with Audrey and Nick while we celebrated their engagement.
Can you spot the cutest little cat photo-bomber here?
After the horse pictures, Audrey and Nick jumped onto their ATVs!  I know I said it already, but I was sooooo excited!  We were able to get creative, do a stunt or two and they even got a little romantic!  Have I already mentioned how amazing this session was?!  I'm pretty sure I didn't stop smiling throughout this entire day.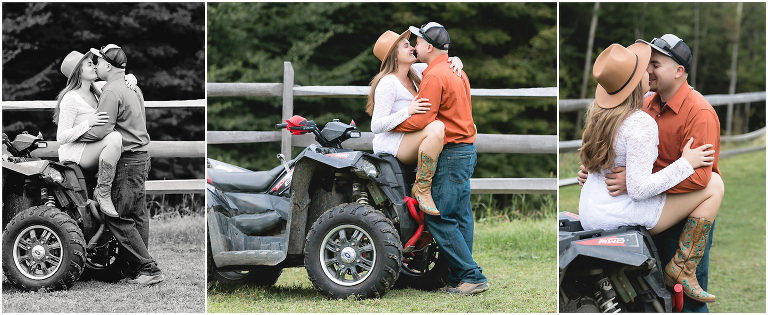 Audrey and Nick, thank you for trusting us with your engagement session.  I hope you had a much fun as we did!
Friends, please leave Audrey and Nick a comment below!  Just click that button!
To get an email the next time Audrey and Nick are featured, please sign up here!
Photographers: Melanie and Brian at mbm weddings