Sarah and Steve had their wedding at the gorgeous and historic Seven Hills Inn, in Lenox, Massachusetts.
Their penguin theme was the most adorable theme in the world!  Sarah loves penguins.  There was a reading about penguin love in the ceremony and Steve's mother spoke a little about how Sarah's love of penguins has spread throughout the family.  Just wait until you see the wedding "cakes," too!
Sarah and Steve both got ready in different areas of the inn.  I know I mentioned it already, but Seven Hills Inn is so cool. There is a little motel area on the grounds, where Steve and the groomsmen got ready. Sarah and her bridesmaids got ready in the historic building.  Shortly after Sarah was ready, her grandmother arrived.  I love when grandparents see their grandchildren for the first time on their wedding day.  The love of a grandparent is so special.
Once everybody was ready, it was time for the romantic first look by the inn's grand piano.  They were so happy to see each other and it was such a sweet first look.  It was easy to decide that we were going to do the first look in the room with the piano because it was so pretty in there.
After the first look and some of the portraits, Steve and Sarah said their vows in the gorgeous 18th century farmhouse, in front of the prettiest windows from the early 1900s.  The ceremony was full of love and laughter.  Sarah's brother officiated, and it was so special.  It is always so meaningful when a family member officiates.
I don't usually get to witness the marriage certificate being signed, so this was super cool for me to be a part of.  Congratulations to the newly married Steve and Sarah!!!
Would you look at these penguin pies?!  They're just the absolute cutest!!!!
And these rings.  How gorgeous is Sarah's band, right?!!  But my favorite ring picture of the night, has to be the rings on the penguin.  Have I mentioned how much I love this penguin theme?!
I've seen a similar version of this guest book at a few weddings recently.  I really love the spin each of my couples has put on their instax pictures guest book!  This one was destined to become an awesome scrapbook of guest images.  I wish I could see the final product!

These toasts had everybody in stitches!

Then, it was time for the party!   After a romantic (and also super fun!) first dance, it was time for the parent dances, or should I say, perhaps, family dances?  I was laughing so hard.  These were great!!!

Sarah and Steve told me from the first time we spoke that they wanted so many pictures of guests.  And really, how often do you have all of your favorite people in the same room at the same time?  I don't normally blog so many reception pictures, but I don't always get a room full of such talented dancers, either!!!

And now, the portraits.  I love these!  We tried to use each of the great spots in the inn for different portraits.

This bridal party was so fun!!!  I love large bridal parties and we had a good time getting creative.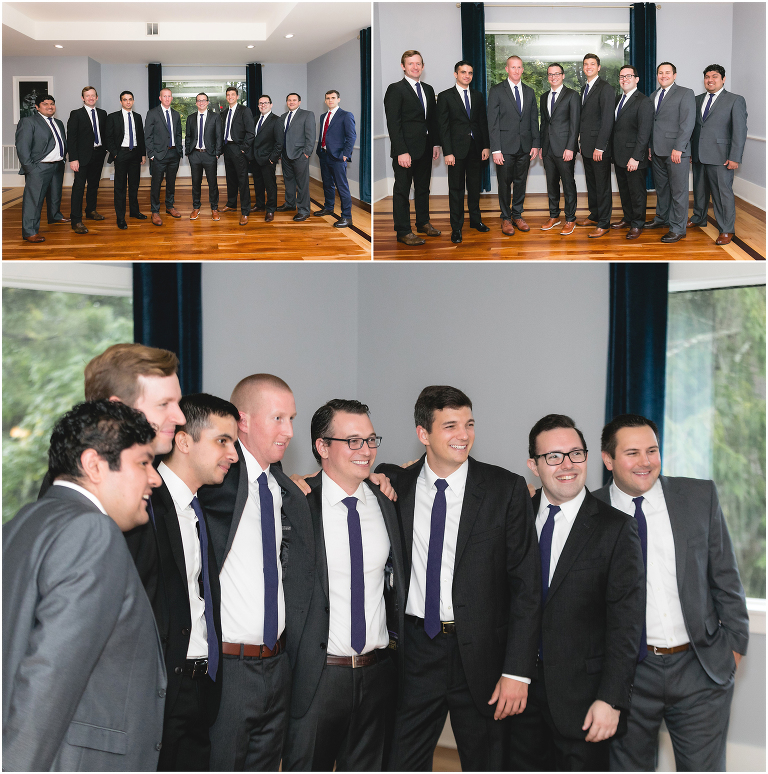 Sarah and Steve, thank you for trusting us with your wedding photography.  You are an amazing couple and we were so excited to work with you on your wedding day.  We wish you a lifetime of love and happiness!
Don't miss Sarah and Steve the next time they're featured on the blog.  Make sure you sign up to be notified.
Like this post? Follow me on Facebook and Instagram!
Help celebrate with the new bride and groom!  Leave them a comment below.
Photography: Melanie and Brian, mbm weddings
Venue: Seven Hills Inn
Gown: Mariella Creations
Flowers: Carolyn Valenti
DJ: Sound Advice DJ
Catering: Vern Kennedy