Kulsoom and Safwan had the most incredible wedding celebration at their family's mosque, Cascade and Sleepy Hollow. We traveled all over Connecticut throughout their wedding weekend to celebrate their love for each other.  Kulsoom and Safwan's wedding photography included a sentimental ceremony at their family's mosque, a gorgeous family farm, a state park and the amazing Cascade ballroom.  Brian and I were honored to spend the weekend with Safwan, Kulsoom, and their beautiful and kind family and friends.  Kulsoom and Safwan were surrounded by so much love, laughter and friendship. Their weekend wedding celebration was one we are so honored to have been a part of.
On the first day, we met Kulsoom and Safwan at the Mosque where their families worship together. Both Safwan and Kulsoom are active members of their mosque. Look at Kulsoom's gorgeous henna. Can you find Safwan's name?
After their ceremony, we went to a nearby farm for their first round of portraits. You'll see those at the end! On the second day, we started with an incredible first look.
I think this may be my number one favorite image of all time!
After a few more portraits, we headed to Cascade for their reception, so they could celebrate with their friends and family.
One spouse delicately fed the other a small slice of cake. One spouse was very sweet and romantic. And then the other spouse… I absolutely LOVE Kulsoom!!!!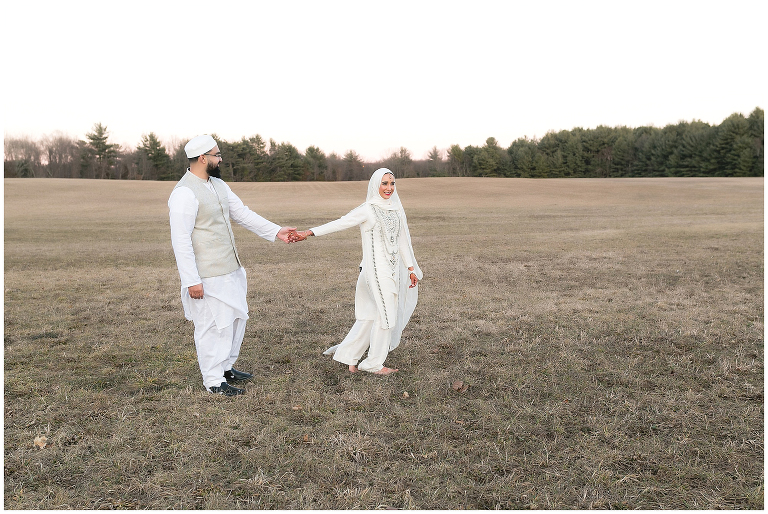 To be notified the next time they are featured, make sure to SIGN UP HERE. To be notified the next time Kulsoom and Safwan are featured, make sure to SIGN UP HERE.
Like this post? Follow me on Facebook and Instagram!
Help celebrate with the new husband and wife!  Leave them a comment below!
Photography: Melanie and Brian mbmweddings
Ceremony: Farmington Valley American Muslim Center
Portraits: Private family farm and Sleeping Giant State Park
Reception: Cascade
Florist: Kulsoom's incredibly talented father, Imran Farid
Makeup: Beauty Marked Studio
Gowns: Custom-designed in Pakistan