Monica and Derek had their wedding at the Lodge at Maneeley's on a perfect summer day.  Their day was filled with love, laughter, friends, family, and all the summer weathers!  We had sun, we had rain (and a rainbow!) and we had the most gorgeous red sky sunset.  Make sure to SIGN UP HERE to be notified the next time Monica and Derek are featured! Also, if you missed their engagement session, find that HERE.
We started the day in the bridal suite.  Monica and her bridesmaids were so fun.  I loved their matching robes.  Derek and his guys got to Maneeley's almost dressed, but Derek's father was able to help him with his tie.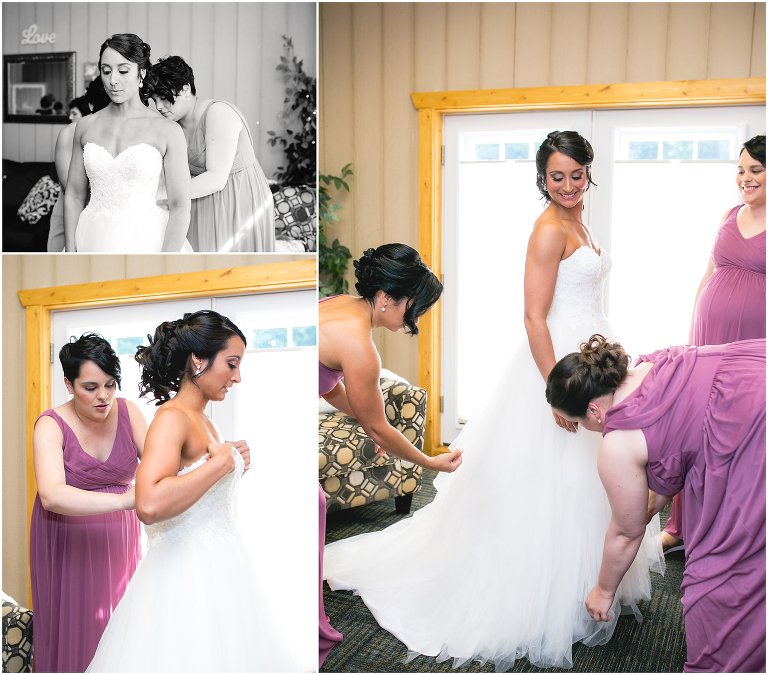 And then it was time to get married!  Monica's mother walked her down the aisle.  There was so much sweet emotion during that walk, and as soon as Monica's and Derek's eyes met, Monica's face just lit up.  So much love.  The ceremony was really fun!  Chaz kept the guests laughing, while also keeping the meaning of the ceremony true to why we were there.  The little looks that Monica and Derek were giving each other throughout the ceremony were adorable!  Both moms read some advice to their children.  Their nephew read from a Dr. Seuss book.  It was a fantastic ceremony.
I also need to mention that Monica's sister, Shera, was there doing her sisterly roles.  <3   She wasn't standing up in some of the pictures, because it was a million degrees outside and she was pregnant with twins.  The sweet babies have been born by now and they are adorable!!!!!!  Congratulations, Shera and family!

Have you ever seen a cuter bride?!

Monica used her grandmother's pin in her bouquet. I always love when couples find ways to honor their loved ones in their wedding details. But also, can we talk about these flowers for a moment? Monica's cousin and bridesmaid did all of the floral arrangements, the bouquets, boutonnieres, flowers on the tables, accents, the cake, you name it! She is incredibly talented!

Those kids! Are they even for real with all that cuteness?! I love them!

The first dance. These are always emotional, and this one was no different. I had to keep reminding myself to stop watching. This wasn't for me to watch; I had to take pictures of it. It's hard to not got caught up in the moment when you see a love like Monica and Derek's.

These parent dances were so sweet. Both Monica and Derek danced with their mothers. It is so clear that the bonds these families have is so strong.

Cake! I loved this table. Once again, you can see Monica's cousin's talent. She is an amazing decorator!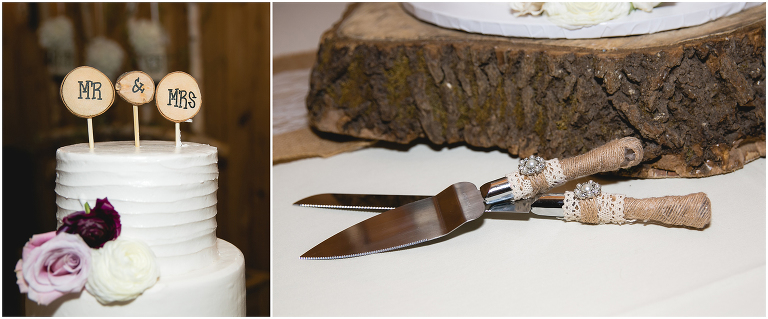 When I get home from weddings, even if it's the middle of the night, I have to upload my pictures. When I saw these portraits, I was so excited to start processing them. I can't even get over how amazing these two did for their portraits. We didn't have much time, but we were able to get these gorgeous shots in just about half an hour. And then, later, the rainbow and the sunset. Seriously. A dream wedding.

Monica and Derek, I cannot thank you enough for trusting us with your wedding photography.  We love you guys and we wish you a lifetime of love and happiness.  Please be in touch when you're back in CT!
If you missed Monica and Derek's Maneeley's Lodge Wedding sneak peek, find that HERE!
**To be notified the next time Monica and Derek are featured, make sure to SIGN UP HERE.**
Like this post? Follow me on Facebook and Instagram!
Help the new Mr. and Mrs. Marks win a free print!  Leave them a comment below.
Bride's gown: In White
Bridesmaids: David's Bridal
Men's suits: Men's Wearhouse
Florist: Cousin of the bride and bridesmaid, Katie Ulrich
Jewelry: DiLustro Jewelry
Hair: Beautiful Transitions
Makeup: Vanessa Marandino at Makeup by V
DJ: Dave at Mike Connolly Sounds
Justice of the Peace: Chaz Zezulka
Cake: Modern Pastry