Hey brides and grooms!  So you have you photographer, (obviously the most important part!) but now you need to consider what you'll leave as a table gift wedding favor.  Well, my friends, look no further!  I have the six best ideas right here!  And, if for whatever reason, these are not exactly what you're looking for, make sure you check out foreverweddingfavors.com for other items that may be perfect for your wedding theme.
I'll be honest.  I saw the words, "BEAR HUGS" and I had to open this box first!  And ooooohhhhhhhh!  Just look at how cute!!!  These bear porcelain salt and pepper shakers might be the most adorable thing I have ever seen!  See more images and order yours HERE!

This key to my heart keychain bottle opener is awesome!  It's so cute!  You have got to check this one out HERE to see it in use!

How cool is this corkscrew?!  Are you a wine lover?  Are you having a wine theme for your wedding?  Get this corkscrew HERE or click HERE to see other corkscrew options!
And how about this for another wine-themed wedding idea?  It's so pretty! Your guests will love this!  Click HERE to see this stopper or HERE to see all the wine stopper ideas!


So, here's a fun fact about your photographer.  I love poker.  That's right.  I love it.  And I'm good at it!  (Bet you didn't know that about me, huh?!)  When my husband and I first got married, we played poker with friends a couple of times each month.  For our wedding, we gave out playing cards too!  I got a little giddy when I saw these included in the box, that Joe, from foreverweddingfavors.com sent to me!  What I love about these is the gold foil.  They're fun and they're pretty!  Check these out HERE, because you have lots of options.  You can get this set, or you can get your own personalized sets.

And lastly, another one of my favorite ideas!  Little heart frame magnets!  Pre-fill them with an image from your engagement session or leave them empty for your guests to add in an image from your photobooth at your wedding.  I love these!  Get yours HERE.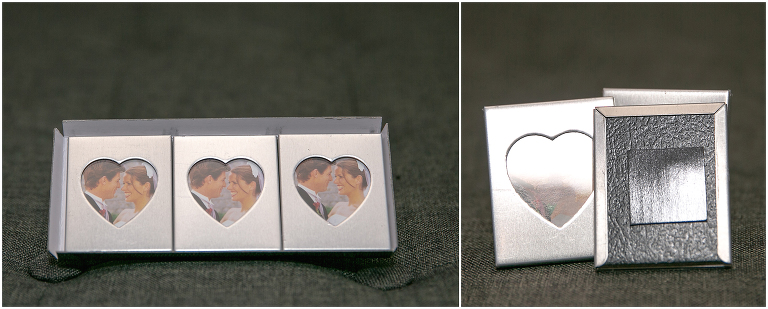 Any of these favors would impress your guests, but if you are looking for a specific item or a certain theme, make sure you check out foreverweddingfavors.com!  You can also find them on facebook and instagram!
To be notified the next time I feature some of my favorite products, make sure to subscribe.