Amy and Mike had the most beautiful Holcomb Farm wedding!  The gorgeous Holcomb Farm is located in Granby, CT.  Amy and Mike are the sweetest couple ever and their friends and family are too.  I had so much fun photographing and celebrating with them!  To see their sneak peek blog post, from right after their wedding, click here!
**To be notified the next time Mike and Amy are featured, make sure to SIGN UP here.**
To see more images, follow me on Facebook and Instagram.
I loved their ceremony.  As you can see, we were rained out.  The rain did not stop all day, but they did not let that ruin any plans.  Amy and Mike still said their vows under the arch decorated by Amy's mother.  The bridal party and their parents stood on the covered patio and the rest of their guests watched from inside.  Because the whole wall is covered in sliders, everyone could still see and hear.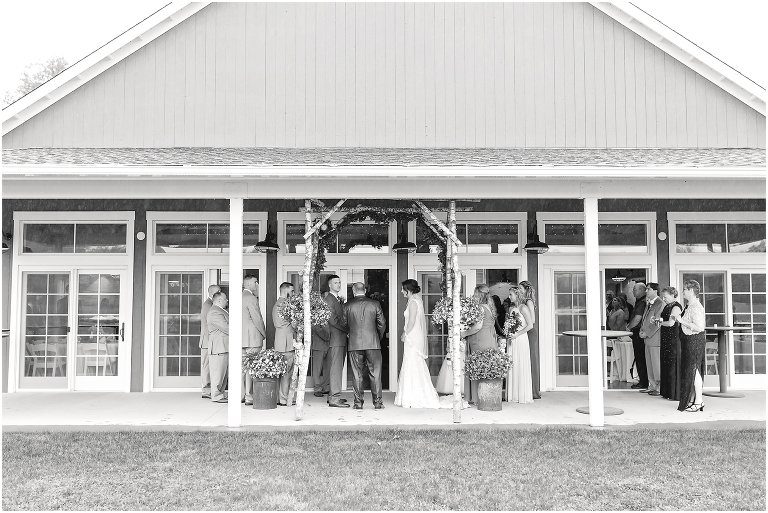 Take a look at Amy's bouquet.  Her bouquet is so sentimental.  She collected pins from family members and carried those with her pinned onto her bouquet.  Also, her wedding jewelry belongs to her grandmother.  Amy carried her mother's guardian angel with her, as well.  I love when brides and grooms honor their special family members in their wedding.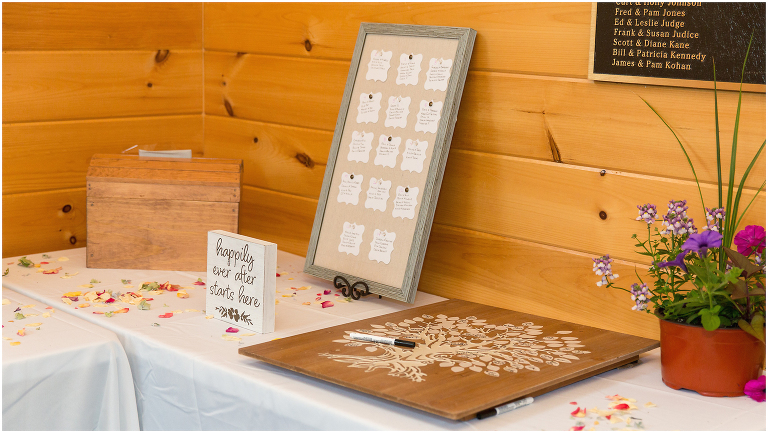 Amy's uncle not only played the guitar and sang during the ceremony, but he also sang and played his guitar for the father-daughter dance.  During the reception, while people were dancing, he and one of Amy's bridesmaids sang.  They are very talented!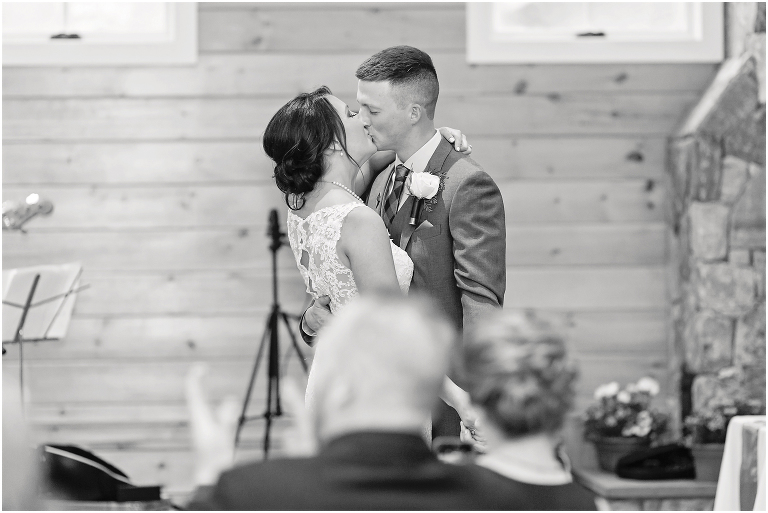 Speaking of the reception, this was a DIY for the whole family!  Like I said, talent.  The entire family has it!!  Amy's mother took care of all of the flowers.  First, they were absolutely gorgeous to look at.  But secondly, lilacs.  Lilacs.  The room smelled heavenly.  Amy and her mother planned all of the decor.  Those centerpieces are so pretty!  And those glasses?  Amy painted them!

These two are a gorgeous couple.  Amy looked beautiful in her gown from Pearl Bridal.  I am in love with the color of this gown and the lace detail.  A few hours into the reception, Mike changed his tie!  How cute is that!?

Amy and Mike, thank you for trusting me with your wedding photography.  You were an absolute joy to work with and I am so glad we met.  Please keep in touch forever!  I wish you a lifetime of love and happiness.
**To be notified the next time Mike and Amy are featured, make sure to SIGN UP here.**
Please leave Amy and Mike some love and congratulations below in the comments section!
On a side note, if you want to learn more about Amy's business, click here!  🙂
Photographers: Melanie and Brian at mbm weddings
Venue: Holcomb Farm
Justice of the Peace: Mike Peitres
Jewelry: Richard's Jewelers
Amy's gown: Pearl Bridal
Bridesmaids' gowns: David's Bridal
Flowergirls' dresses: David's Bridal
Mike's tux: Men's Wearhouse
Hair and Makeup: Tres Lounge
Band: Cold Shot
Cupcakes: Pete's Sweets
Florist: Amy's mom